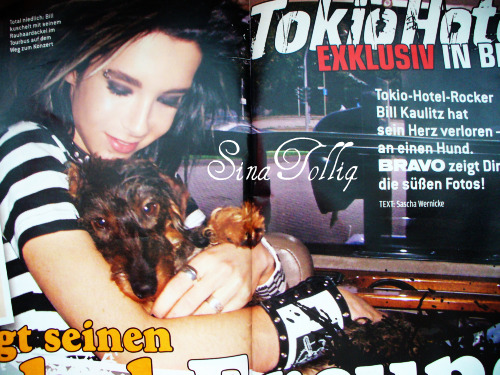 Bravo
Bill pokazuje svog dragog prijatelja.
Ovu su najsladje slike sedmice. Tokio Hotel zvijezda Bill Kaulitz kakvog nikada prije niste vidjeli.
On sjedi u autobusu za turneje sa svojim prijateljem. Oni zajedno putuju po evropi - zagrljeni.
Ne to nije ljudsko bice - vec pas.
''Ona je mala zenka hrenovka psa. Totalno draga, poslusna i voli se maziti.'' Rekao je on sa osmijehom na licu. Malo je razmazena. Ali to je OK. Uradio bih sve za svoje pse. Obozavam ih.''
Th zvijezda odbija otkriti ime psa. Plasi se da ce je puno ljudi dozivati. Bill ju je spasio iz sinteraja.
To pokazuje da Bill ima XXL srce.
Psic je veliki fan TH-a. ''Ona voli nasu glazbu.'' Kaze pjevac smijuci se. ''Pa Durch Den Monsun je cula precesto. Ali uz Humanoid uvijek mase repom.''
Kod kuce u Hamburgu, Bill i njegov brat blizanac Tom imaju 3 psa: Jos jednog hrenovka psa, Doberman-Labrador mjesanca i Njemackog kratkodlakog, sve 4 psa spavaju sa Billom u krevetu.
''Nije me briga dali je to pravo mjesto za pse..Ne mogu zivjetibez svojih pasa.Cesto me probude ujutru, gurkajuci me nosom po licu.''
''Lijepo je vidjeti kako oni vole najjednostavnije stvari.''
Dali ces imati jos pasa?? ''Mislim da je 5 dosta za sada, ali mozda ih budemo imali 10 jednog dana...''
sve 4 psa spavaju sa Billom u krevetu.( Ljubomorna sam na ove pse)